Canadian Broadcast Sales has once again partnered with Toronto-based Brainsights, a world leader in neuromarketing measurement.
Brainsights 2018 results demonstrate that radio is just as effective at getting the listener's attention and making a connection on an emotional level, compared to the media benchmarks (radio, audio and video combined). Radio's advantage is its ability to connect with the listener and create positive brand memories, leading to brand salience.
Our Brainsights 2020 research is a head-to-head comparison of radio and television creative in the same campaign. The study reveals comparable delivery of Neural Engagement Scores (NES) for radio and television.

Brainsights 2018 research uncovered radio's ability to deliver brand messaging as effectively as television and digital on all three key measures (

Attention

,

Connection

,

Encoding

)

2020 results are consistent with Brainsights 2018, highlighting the superior encoding ability of radio

2020 also showed that radio is more powerful at breaking through to deliver messages that resonate deeply with consumers

As a result, Radio excels at driving brand-building as evidenced by compelling maximum emotional connection scores across all categories

Deeper emotional connections on radio happened across both gender and age groups (A18-34 & A35-64)

Radio continues to excel in traditional radio categories like Automotive, Finance, QSR and Retail

Brainsights 2020 further demonstrates radio's effectiveness in the E-Commerce and Consumer Packaged Goods categories
Brainsights analyses human reactions to advertising by recording neural activity through EEG technology.
Brainsights focuses on three core metrics to create a Neural Engagement Score, a measure of the decision-making mind of the consumer.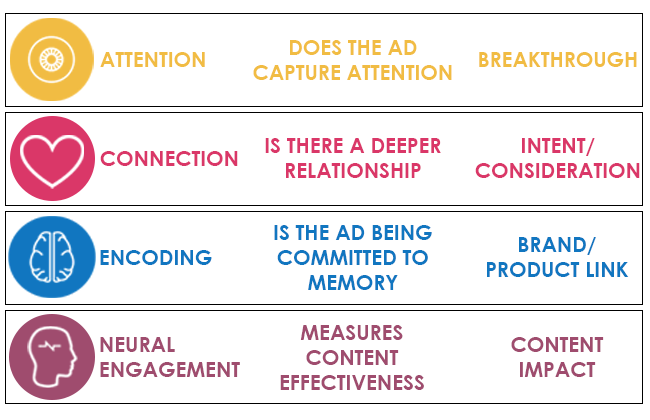 95% of decision-making happens in the unconscious brain, making it critical to build and reinforce memory structures connected to your brand. Brainsights measures neural engagement with brand communications at the unconscious level, giving advertisers insight into advertising effectiveness.
COMPETITIVE
LANDSCAPES
Broadcast
Calendar